In-Kind Support
In-Kind Commercial Supporters of Workshops at ANESTHESIOLOGY 2018
"Thank you to our In-Kind Supporters – without their support of medical supplies and equipment, our 30+ hands-on workshops wouldn't be possible. We are thankful for their support and I invite you to thank their staff here at annual meeting or your local representations."
- Sulpicio G. Soriano, M.D., FAAP, FASA, Chair, Committee on Annual Meeting Oversight
3D Systems
ABBOTT Labs
Accuro
AMBU
B|Braun
BK Ultrasound
BOMIMed
Butterfly Network
CAE
Clarus
Clarius
Cook
Draeger
Fisher & Pakel
Flexicare, Inc.
GE Healthcare
Intersurgical
Karl Storz
Kyoto Kagaku America
Lhasa OMS
MedaPhor
Medtronic
Mindray
NeuroLogica
Olympus
Pajunk
Philips Healthcare
Rivinna
Salter Labs
Smiths-Medical
SonoSim
SonoSite
Teleflex
Terason
TruCorp
VBM Medical
Verathon
ZOLL
To learn more about ASA's In-Kind Support program, contact Jami Firek at j.firek@asahq.org.
Helpful Information
All credits must be claimed by Dec. 31, 2018 - there will be no extensions.
Claim credits
Notify me 2019
ASA Membership Matters
ASA members receive deep discounts on registration. Join today!
Sign up to live stream four popular sessions.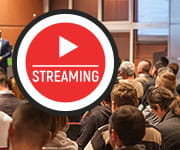 Thank You Industry Supporters
Whose contributions allow the American Society of Anesthesiologists® to create world-class education and resources to improve patient care and outcomes.

Thank You Annual Meeting Supporters