National Anesthesia Clinical Outcomes Registry (NACOR)
Anesthesia Quality Institute's (AQI) NACOR has been approved as a Qualified Clinical Data Registry (QCDR), as well as a Qualified Registry (QR) by the Centers for Medicare & Medicaid Services (CMS).
AQI is offering the following services to help your practice with your reporting needs:
Full-Service Solution – NACOR Quality Concierge
AQI is collaborating with ePreop™ to provide a full-service quality reporting solution with Quality Concierge™, which helps practices report seamlessly, avoid CMS penalties under MIPS and MACRA, and prepare for value-based payment models.
The proven reporting platform integrates with most major anesthesia billing services and EHRs and can be used in non-integrated environments. Quality Concierge is a complete quality analytics solution, with tracking and reporting tools that measure compliance across the entire perioperative continuum. Real-time provider and administrative dashboards help generate data and allow you to document your practice improvement activities.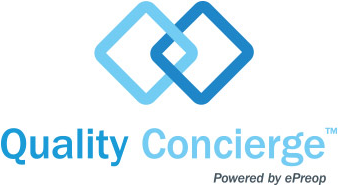 NACOR Standard Quality Reporting
For 2018, NACOR will support the Quality and Improvement Activities Components of MIPS. For the Quality Component, NACOR offers two quality reporting options:
Group Practice Reporting
CMS evaluates the quality data at the Tax Identification Number level. All eligible clinicians' data are aggregated and summarized prior to evaluation by CMS.
Individual
CMS evaluates the quality data at the National Provider Identification (NPI) level. Each EC's data are aggregated individually prior to evaluation by CMS.
NACOR Standard offers two quality reporting mechanisms:
Qualified Clinical Data Registry (QCDR)
Includes 16 non-MIPS and 32 MIPS measures
Qualified Registry (QR) Includes only 32 MIPS measures
Practices must identify at least six measures with one outcome measure and submit data for at least 50 percent of eligible cases regardless of payer (Medicare and non-Medicare).
NACOR Basic
NACOR Basic allows practices to report billing and administrative data, comorbidities and outcomes for benchmarking for all anesthesia providers in all practice settings. NACOR Basic does not include quality reporting.
The registry provides:
Interactive analytical reports
Ability to analyze data across various dimensions
Peer-to-peer benchmarks